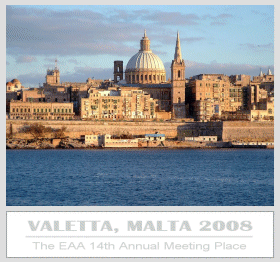 Malta looks forward to hosting the EAA Annual Meeting in 2008. Many of the participants will already be familiar with the Maltese archipelago because of its long and fascinating past.
On the occasion of the Annual Meeting in 2008, there will be pre and post-event tours during which the participants can get a taste of Malta's rich archaeological and historical heritage and, of course, enjoy the sun and sea as well! During the meeting we shall also have the opportunity to visit some significant sites, and those who want to be more independent will find that the island's extensive network of bus links offers an easy and cheap way to travel round at your leisure. The distances are small, and the number of sights large.
More information about the 2008 Annual Meeting here and here.