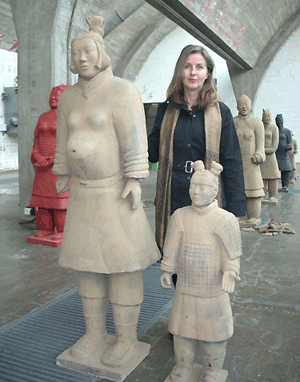 Regarded as the important symbol of the Chinese cultural treasure, Terra-cotta Warriors, one of the eighth wonders of the world, were hidden underground buried with Emperor in Qin Dynasty for over two millennia. But now another army, made of women and children, have come to people's sights, telling vivid stories about the cruelty of war.

The array of soldiers, created by 50-year-old Norwegian artist Marian Heyerdahl, has been on display recently in 798 Space, a gallery in a trendy art community "Dashanzi" in Beijing. Modeled after the famous terracotta soldiers in ancient capital city Xi'an in northwest China, the army consists of 57 statue terracotta warriors in the form of women and children, which attracting many Chinese and foreign visitors.

The exhibition of female warriors will last to 9 March. Beijing is the first stop. She will also take some of her pieces to South Korea, Norway, and the United States.
Full report here.
Heyerdahl is also reported to have said:
"I add breasts and change the hairstyle to a woman's and give the pregnant ones big tummies. Some have their mouths open and other have their eyes closed. From the back they look like the original warriors but from the front they deliver a different message."
Source here.
A report about the opening can be found on the webpage of the Norwegian embassy in Bejing here.